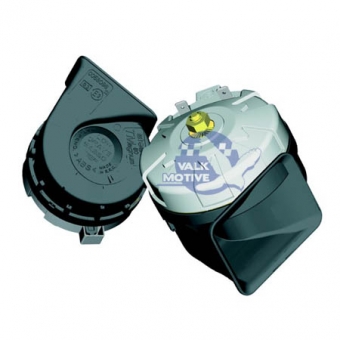 Ex Tax:

€37,19

Product Code:

Stebel Magnum TM/2 black
Description
A powerfull set of 2 matching horns in a high and low tone. Together these produce 139 dB!The frequency is 410 / 500 Hz.
The Stebel Magnum TM/2 black is a set and consists of a horn with a high tone and a horn with a low tone. By linking these together, a "high power" horn is created with an exceedingly powerful sound of 139 dB, measured at a distance of 4 inches, or 10 centimetres. The sound is 115 dB at a distance of 2 metres. The frequency is 410 / 500 Hz. If you only have limited space, this is a good choice. The 2 horns only need a small spot.
4 brackets are included for physical installation.
The imposing noise sounds immediately upon pressing the horn button. There is no delay.
Please note: have you installed this horn after purchasing it? Warn your bystanders before you demonstrate the horn...
The sound fragment of this horn gives you a good impression of the type of sound. The actual force can only be experienced when you have installed it.
The horn is allowed on the public roads, the European approval number is E3 00 58098.
Manual double horn set with relay
Size: diameter is 7 centimetres, thickness is 6.5 centimetres, largest diameter through shell is 10.5 centimetres
Weight: 486 grams
Relay needed: yes, it is included in the package
Voltage: 12 volts

Please note:
The manufacturer only delivers the Stebel Magnum TM/2 with a relay. Therefore, we offer an installation package to install the horn. This packages consists of an ample amount of installation wire in black (2 metres) and red (2 metres) of 2.5 mm2 thickness, fuses, fuse holder and various connection materials. You can simply order this by ticking the box "In shopping cart". Picture of the content of the installation package: