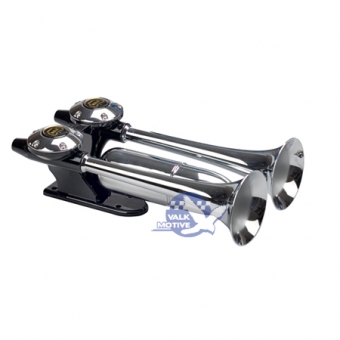 Product Code:

Wolo Silver Streak
Description
This horn produces a powerful echo sound that replicates a locomotive. 119 dB at a distance of 1 meter and a low frequency of 376/383 Hz.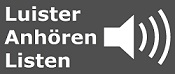 This attractive horn is designed with an air chamber between the trumpets that will produce a powerful echo sound that replicates a locomotive. Powered by a compact, heavy-duty compressor that is maintenance free, no high-pressure on-board air tank required.

All metal construction throughout so to withstand the extremes in all weather conditions and to provide years of dependable service. The horns base is painted black enamel and both trumpets and air chamber have a bright chrome finish, which will dress up any vehicle big or small.

Installation is made easy with Wolo's new flexible inlet hose with brass fittings that is hidden from view. The kit includes a heavy-duty compressor, 30-amp relay, hose, flexible inlet hose, mounting hardware and rubber gasket for a watertight installation.

Please note: have you installed this horn after purchasing it? Warn your bystanders before you demonstrate the horn...
The sound fragment of this horn gives you a good impression of the type of sound. The actual force can only be experienced when you have installed it.

Manual compressor horn

Size: length x width x height is 37cm x 18cm x 13cm
Relay needed: yes, included in the package
Voltage: 12 volts
Please note:
The manufacturer only delivers the Wolo Silver Streak with a relay. Therefore, we offer an installation package to install the horn. This packages consists of an ample amount of installation wire in black (2 metres) and red (2 metres) of 2.5 mm2 thickness, fuses, fuse holder and various connection materials. You can simply order this by ticking the box "In shopping cart". Picture of the content of the installation package: